ONLINE Summit : 1-31 March 2021
Give Yourself a 'Time-Out' !
Our one-month 'Teacher Wellbeing for Body, Mind & Soul' immersive event will provide an opportunity for educators to learn more about the strategies, tools and implementation of mindfulness, plus experience 20 holistic modalities for wellbeing of the body, mind & soul.
The Aims of the event are to:
engage educators in mindfulness approaches to wellbeing
give time and emphasis to the importance of self-care for educators
provide practical wellbeing tools & experiences which nurture the body, mind & soul
connect teachers with holistic practitioners who offer online classes/ courses
Who is this event intended for?

The presentations and experiences are specifically targeted for school teachers, school leaders, wellbeing staff, educators who work with children in various settings – preschool, education services, school support staff, school therapists etc
This event is particularly for you, if you are …

interested in a holistic view of wellbeing
seeking a deeper embodiment of mindfulness practices that you can use anywhere, anytime
wanting to explore over 20 different online holistic health modalities for your body, mind & soul
looking for more diverse tools to help manage stress & anxiety
interested to discover the healing benefits of sound, music, art, mantra, breath & movement
looking to making connections with like-minded teachers & educators from across the globe
willing to make your own wellbeing a priority
How will the event be delivered?
This event is a sequential professional learning program and experiential immersion. Participants will be given access to an online course platform and will receive:
Pre-recorded video sessions (approx 1 hour viewing per week), which will be released each Monday. This will allow flexible time to complete the lectures and sessions during the week.
Mid-week LIVE online meditation (approx 1 hour on Wed and Thur evening 7.30-8.30pm AEDT). This session will connect to and deepen the learning theme for the week.
Sunday 'Me time' afternoon : Usually 3-4 LIVE experiential sessions linked to the weekly teachings and theme (approx 1-4pm AEDT)
# All sessions will be recorded and made available (for 3 months) on the website #
Week 1 theme is 'Our Whole Self.'
We will focus on the intrinsic value of nurturing our holistic self as educators. We delve into the essence of who we are, and ways to nurture a connection with our authentic self. We begin our mindful journey together, and practice ways to grow in self-awareness using the breath and attention to the present moment anywhere, anytime.
The experiential sessions for this week include: Mindfulness meditations, Tai Chi, Pranayama, Neurodynamic Breathwork, Sacred Sound meditation & Yoga for teachers.
Week 2 theme is 'Feel the vibe'
We will focus on energy body awareness: connecting with our senses, and becoming aware of our lifeforce/ energy. We explore the healing power of energy and ways to lift our vibration. We look at healthy eating and ways to 'Eat your energy.'
The experiential sessions for this week include: Mindfulness practices, Energy Healing. Crystal Bowl sound healing, Nature meditation, Mantra, Yoga, Kirtan and Sound Medicine

Week 3 theme is 'Expand your Mind'
We focus on the power of thoughts, and how our negative brain bias can impact this. We explore the scale of consciousness and the 'mirror' that life shows us. We connect with our heart and discover the secrets of gratitude. We learn about the connection between 'Food & Mood.'
The experiential sessions for this week include: Mindfulness practices, Power of thoughts practices, Wellbeing meditation, Laughter Yoga, Positive self-belief, Growing with Gratitude, Yoga and Ayurvedic cooking for calm body & mind.

Week 4 our theme is 'Let it Be.'
We focus on our inner wisdom and how to use mindfulness techniques in times of challenge and in managing stress. We connect with our emotional body (or inner child) and discover ways to nurture our needs in healthy ways.
The experiential sessions for this week include: Mindfulness meditations, Inner-child meditation, Forgiveness meditation, Chair Yoga, Art Therapy, and Yoga

Week 5 theme is 'Heart & Soul of Teaching'
In our final days, we bring it all together. We discuss ways forward to integrate wellbeing into our lives and continue our journey towards mindfulness, peace and transformation. We explore mindful moments at school, and the power of compassion and forgiveness.
Final meditation together on Wed 31st March 7.30-8.30pm AEDT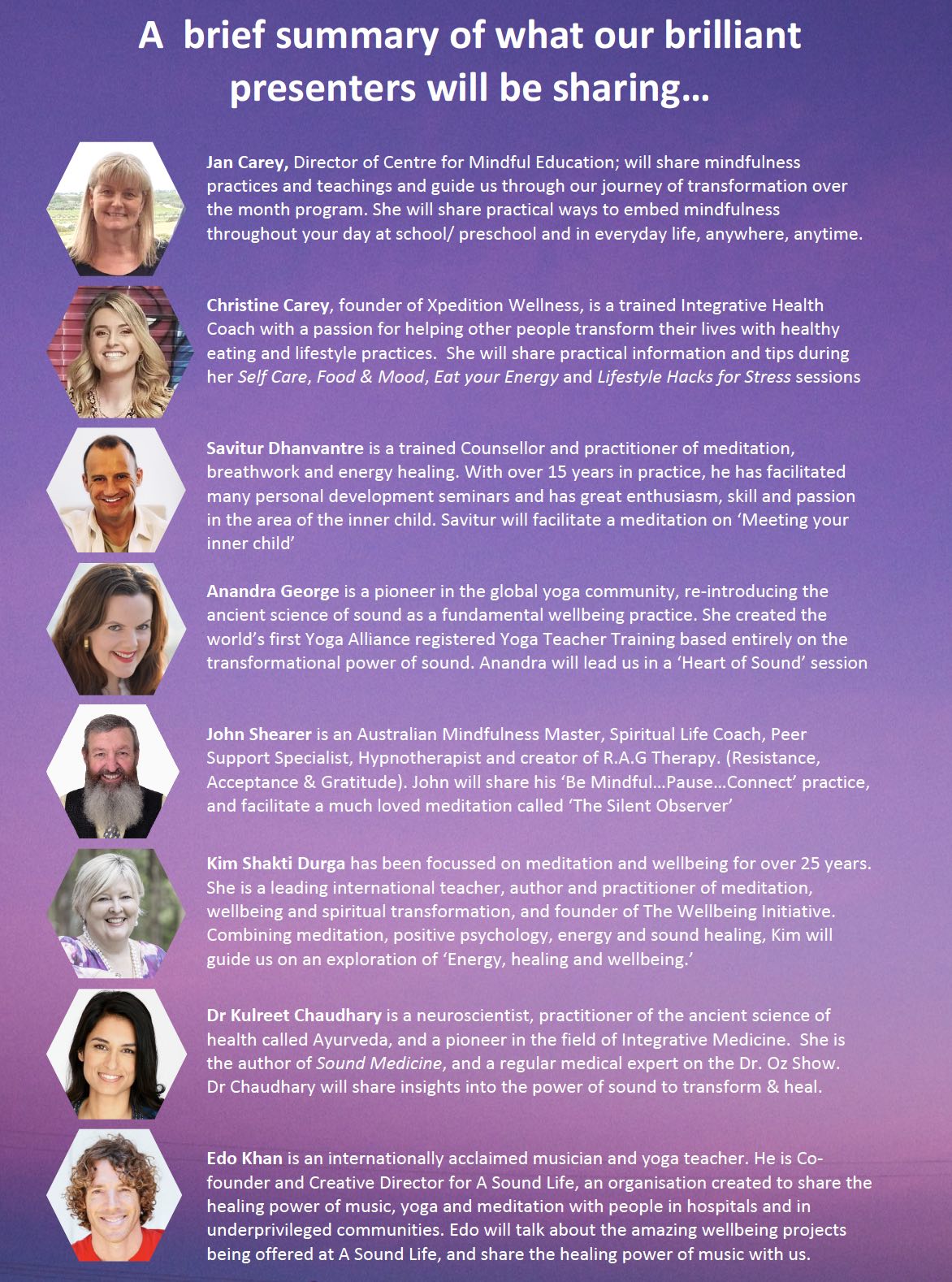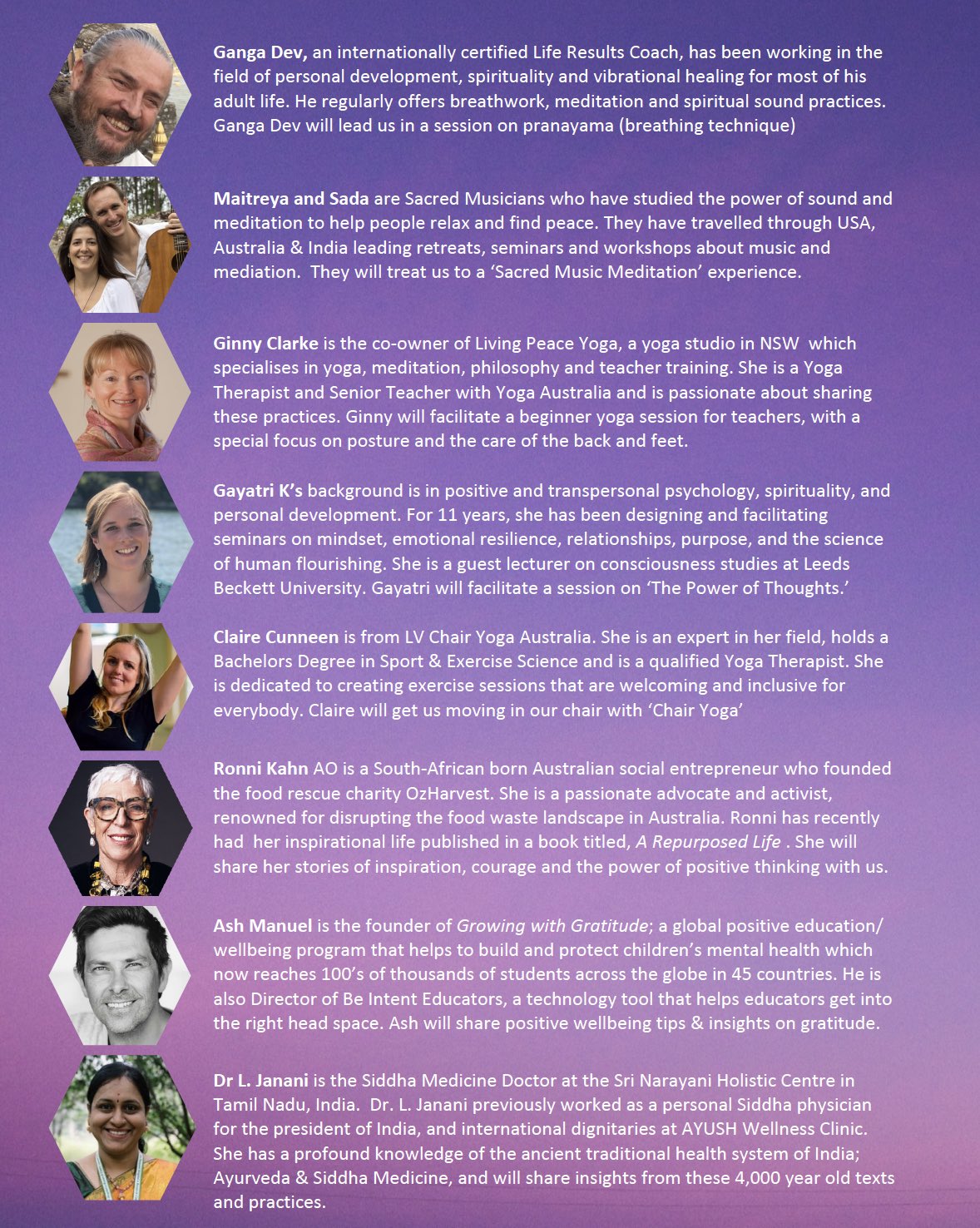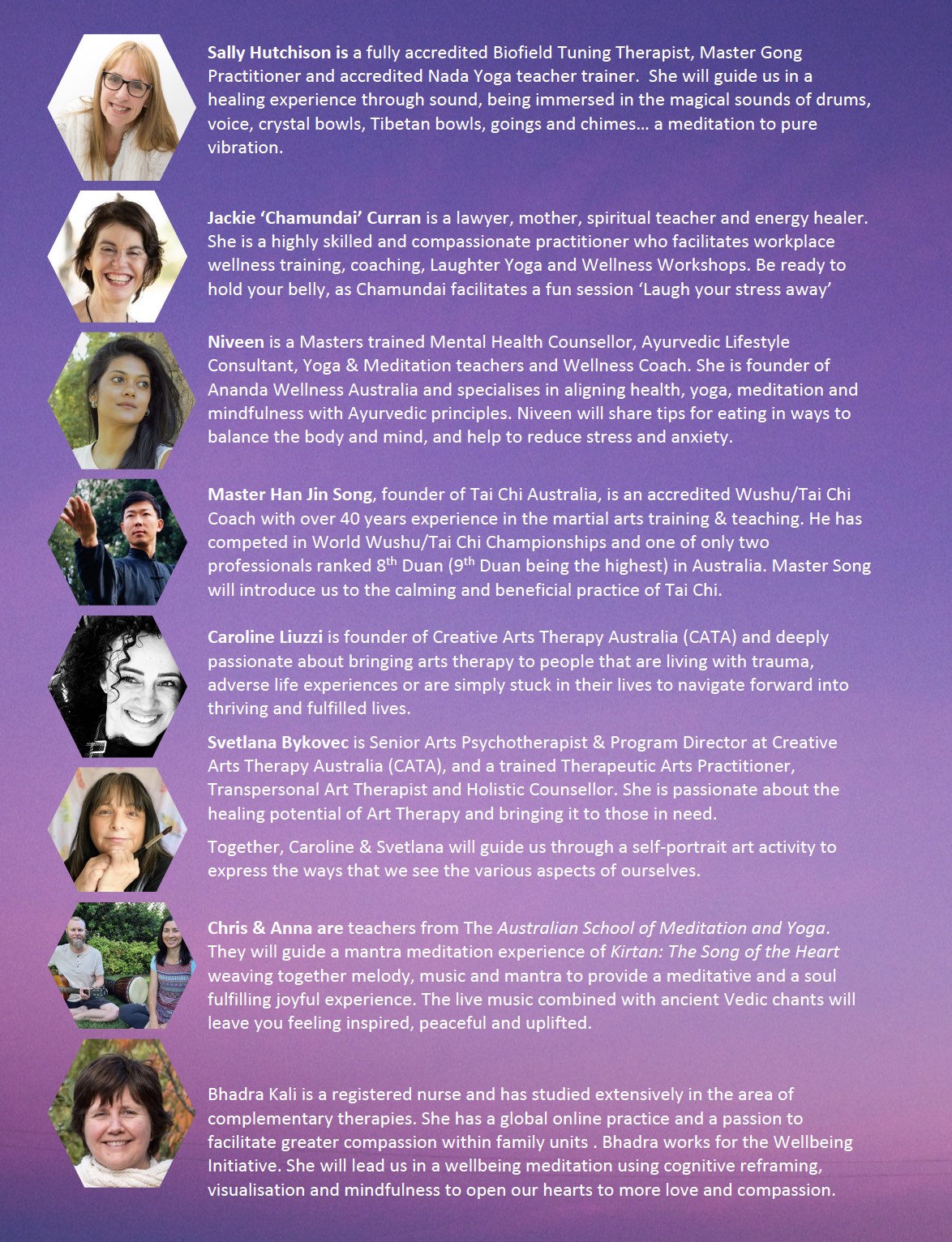 What is included?

Online sequential professional learning program for educator wellbeing
Experiential immersion in over 20 holistic wellbeing modalities
Access to all the recordings for 3 months after the event ends
Inclusion in a private Facebook group for participants of the event
A certificate for 12 hours professional learning + 12 hours professional experiential immersions
So What is the Cost?
We know that 2020 was a year of disruption and uncertainty for many teachers, their families and school communities. Our hearts desire it to reach as many educators across the globe as we can with these wellbeing opportunities. We hope that individual teachers, teams or whole school staff groups join our journey to wellbeing, so we have kept the summit price as low as we can to help this.
The cost of the full program is only $108 AUD ($85 USD)
Giving Forward
We believe in the flow of abundance and generosity.
$10 from every ticket sale will be donated to our two favourite charities:
Help-A-School Foundation and OzHarvest
http://www.helpaschoolfoundation.com/

Together we can support change in the world.
About... Centre for Mindful Education
The Centre for Mindful Education was founded initially as 'The Mindful Classroom'.
With a vision to introduce and expand mindfulness based programs in schools with students, teachers, leaders and whole school communities across Australia, we offer Mindful Teacher courses, whole school mindfulness programs, wellbeing weekend retreats, 5 day 'Mindfulness In Action' immersions in Bali and even 'Mindful Teacher study tours' to India.
Over the last year, with the changing landscape of COVID, came an increased number of excellent mindfulness resources and wellbeing modalities being offered online across the globe. What were once only offered as face-to face experiences, are now being offered online. No longer are we restricted by location or time in accessing the best mindfulness teachers and holistic practitioners in the world.
We believe in the power of collaboration and unity... not competition. So, the Teacher Wellbeing Online Summit was birthed.
We truly believe that together we can support educator's wellbeing across the globe.

To see more about the Centre for Mindful Education programs, staff training courses, events and retreats... go to https://www.centreformindfuleducation.com/
You can contact Jan Carey, Director at: [email protected]
Frequently Asked Questions
When does the course start and finish?
The course starts on 1 March 2021. It will be one-month of learning and experiences, ending on 31 March.
How long do I have access to the course materials?
After the event ends, you will get 3 months continued access to all the course materials, and session recordings. Until 30 June 2021.
Do I have to be online at any set time?
No, but you will get the best outcomes if you join as many of the LIVE sessions as you can. The weekly course materials are pre-recorded, so you can watch these in your own time during the week. We have LIVE online sessions: - Mid-week lift (7.30-8.30pm AEDT) - Wed and/or Thur evening, and Sunday afternoon 'Me Time' (1.00-4.00pm AEDT)
What if I can't attend a LIVE session?
All the LIVE sessions will be recorded and added to the course website so that you can watch them at anytime and as many times as you want during the event, and for the next 3 months.
Its online... so what technology will I need to participate?
We will be using Zoom for the LIVE sessions, so you will need to have this platform downloaded onto your computer. Go to www.zoom.us
Can I get professional learning hours for this?
Yes, we will issue a certificate to all participants for: - 12 professional learning hours (which includes the weekly learning program and lectures) - plus 12 hours for professional experiential immersions (this includes the LIVE sessions and experiences)
Is this event tax deductible?
Yes. This is a professional development program for teachers and educators, and therefore qualifies as a tax deduction in Australia. Please see your tax accountant for more information about this in other countries.
We truly hope you can join us for this amazing online event.
Take time out to...
Nurture the Union of your Body, Mind & Soul
If you have any further questions, please email us at [email protected]